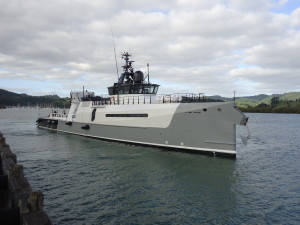 The 54m Damen Sea Axe Advantage is heading to warmer waters, leaving Port Whangarei to meet up with its mother ship in Tahiti to assume its role as a super yacht support vessel, and Ship Repair NZ are proud have to been a part of its upgrades and renovation.
It's the culmination of four months' work by the team at Ship Repair NZ, who have been working behind the scenes with a crew of 35 to complete the conversion before it had its cosmetic finishing touches.
The massive project saw the Ship Repair NZ team, headed by company project manager Nick Eilering and supported by John Clement, carry out each part of the heavy structural fabrication and engineering required for the finished product.
Major structural installations were required for the deck crane, which will be used to lift the boat's submarine and other tender vessels on and off the deck. To enable the crane to be installed, strengthening of the fuel tanks was required, along with the structural strengthening of the crane platform itself.
The project also included a two-metre stern extension and swimming platform fabricated and installed; and large stabiliser fins fitted into the hull. Separate water tight voids were fabricated into the fuel tanks and a 4mx4m section of hull plate was replaced on each side of the vessel to take the heavy loads from the new stabilisers.
To support the new deck crane and stabilisers, new hydraulic systems were installed on the vessel. Ship Repair NZ was responsible for running the required tube work to make the systems operational. The systems then had their final hose connections and commissioning carried out by the components suppliers and the team from McRaes Global.
Modification of the aft deck, bulwarks and all the ventilation systems was also completed to allow room for the helipad installation. Additional work was done whilst the Advantage was prepared for general survey. This is the second Damen the Ship Repair NZ team had worked on with Umbra being completed last year.
"We worked extensively on this project. We fabricated and installed all of the heavy structural work on Advantage, and from there, the rest of the work could be completed in a timely manner by the other companies we teamed with. Overall, we are really pleased with the finished result. We look forward to working on many more projects like this," Nick says.