Ship makeovers, part or full refits, conversions or upgrades – however you choose to describe it, we have done it, are doing it, and are ready for a new challenge to come our way.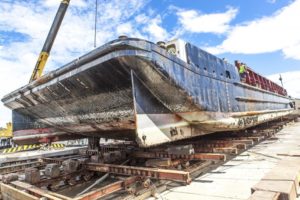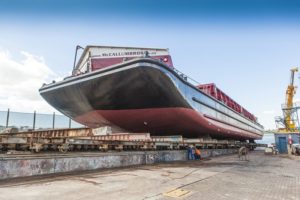 Barge Pohonui Before & After
From smaller boats to large ships and everything in between, our team at Ship Repair NZ have made it our business to successfully makeover and transform a huge number of vessels over the years.
We offer a complete Ship Refit Service for upgrades or change of use. Our engineers and marine fabricators have worked on hundreds of vessels, covering everything you can think of when it comes to ships conversions, from ferries to fishing vessels, luxury liners to commercial cruise ships, private use and more.
One such example is the recently completed 54m Damen Sea Axe Advantage, which following its complete transformation is now a super yacht support vessel.  Four months of work by more than 35 of our crew saw the massive undertaking accomplished, which included all levels of manufacturing and engineering both internally and externally on the vessel.
Major structural installations were required for the deck crane, with strengthening of the fuel tanks needed, along with the structural strengthening of the crane platform itself.
The project also included a two-metre stern extension and swimming platform fabricated and installed; and large stabiliser fins fitted into the hull. Separate water tight voids were fabricated into the fuel tanks and a 4mx4m section of hull plate was replaced on each side of the vessel to take the heavy loads from the new stabilisers.
The project was extensive and the finished product sensational. This is just one example of the work of our team and the work that can be undertaken by our qualified and very experienced staff here.
Whether you require a full refit, or partial – or if you just want us to give your vessel a mini makeover and new paint work when it's in the slipway for survey, we can make it all happen.
Custom manufacturing and engineering is one of our specialities. Talk to us and we can make it happen.